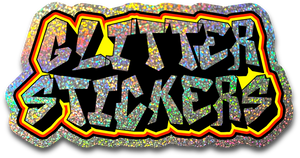 Glitter stickers have a shiny glitter holographic effect.
The blank/white areas in the design will be glitter by default.  The glitter will take on all colors in the design except for black.  You can also get white ink in specific areas of the design or have areas with or without glitter.  For this customization, a vector file with all the separations (layers) will be required.  Contact us with any questions. 
Vector file formats: EPS, SVG, PDF.
3 mil glitter holographic vinyl + 3 mil gloss lamination
Up to 5 year outdoor durability
Free Shipping
No Bleed Cut Option
NOTE:  Glitter stickers must be printed and cut with a 1/8" unprinted area around the design for the cut. 
5-7 business day production